Black History Month Speech for the Iowa House of Representatives
It was a sunny Sunday afternoon in the fall of 1955 when my mother, my aunt,  and I returned home from church. As I ran upstairs to change my clothes,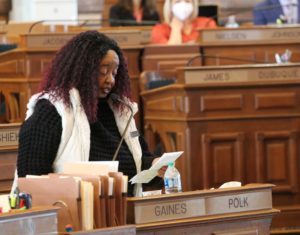 my mother yelled at me, saying that I should keep on my good clothes. That we were leaving in a few minutes to attend a speech at the Willkie House.
Shortly afterwards I found myself sitting in the front row of a small auditorium between my mom and my aunt waiting to hear this speech.
Suddenly a beautiful black woman appeared by the stage. She was wearing a bright pink dress and bright makeup, but she looked very sad as she began to speak.
She told us that her 14 year old son had been recently lynched in Mississippi. He lived in Chicago but was visiting relatives down south when this horrendous crime occurred. He was wrongfully accused of whistling at a white woman and stolen from his bed late at night. Never to be seen alive again.
I was only eight years old but astute enough to realize how brave this young mother was. I will never ever forget how she did not shed one tear as she graphically described to us what those men did to her son.
Mamie Elizabeth Till, born in Webby, Mississippi in 1921 and died in Chicago in 2003, was one of the activists that sparked the civil rights movement of the 1950s and 1960s.
Her speeches around the country motivated people, both black and white to stop the racism that permeated American life at that time.
Mamie Till, mother of Emmett Till is a shoulder we stand on.
I delivered this speech on February 8th, 2022 on the floor of the Iowa House of Representatives, as part of an initiative amongst members of the Legislative Black Caucus to spread awareness of Black history. You can find the video of my speech on my Facebook page listed at this link: Representative Gaines Delivers Remarks for Black History Month
Photos courtesy of Iowa House Democrats staff.
Copy Link
Link was copied