Thanks to the leadership of the Biden-Harris administration, all Americans now have access to free, at-home COVID-19 tests.
You can go to covidtests.gov and order four tests for free to your home. These tests are one of the best ways to quickly determine if you have COVID-19 after being exposed. Timely results help Iowans know when to quarantine and keep their friends and family safe.
You can watch President Biden speak about these at-home tests at his press conference on January 19th.
Additionally, these at-home tests will make COVID testing more accessible to Iowans living outside of the state's metro areas. Individuals living in rural areas have the longest drives to hospitals on average.
Iowa's healthcare system is currently overwhelmed due to staffing shortages, lack of COVID-19 tests, and increased hospitalizations because of the unmitigated spread of the virus throughout the state. The best way for Iowans to fight back against the virus is to get their vaccine. Also, get the booster and wear a mask when around other people outside of the home.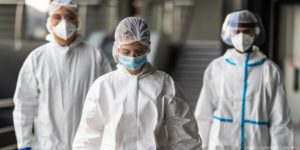 Some communities tried to input safety measures, such as masks-mandates, to help stop the spread of the virus. Governor Reynolds' failed leadership has made this pandemic harder on Iowans than it needed to be, and she continues to put her corporate donors first.
While President Biden and Congresswoman Axne invest in Iowa communities, Governor Reynolds continues to put Iowans in unsafe conditions to grow corporations' bottom lines. 
Conversely, starting next week, Americans will have free access to the CDC recommended N95 masks to help protect them and their neighbors from the virus. President Biden announced last week that his administration had secured this deal to provide 500 million masks to Americans for free. This investment is another step the Biden-Harris administration is taking to slow this pandemic and protect Americans.
We'll be receiving updates on those masks and where to find them, so stay tuned for more here on Potluck!
****
If you have questions or would like to submit a guest article, please email us at Press@ProgressIowa.org.
Photo obtained from Canva Pro
Copy Link
Link was copied