The Des Moines School Board voted 7-0 last week to name the newly remodeled East High School auditorium the Ruth Ann Gaines auditorium, in my honor.  This has motivated me to do an enormous amount of reflection.  I taught at East High school for 40 years.  During that time, I worked to encourage other teachers, administrators and school board members to recognize the importance of Art Education.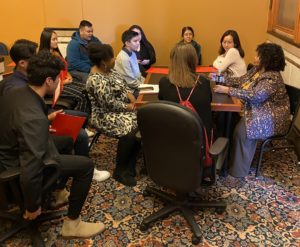 Representative Gaines meeting with a group of high school students during the 2021 Legislative Session.
Many of my students came from dysfunctional families and were struggling to make sense out of life and the world around them.   Being in my class help them find a path to understand reality and the ability to change what they could.  A lot of my former students came to school just so they could participate in drama and so drama class encouraged them to graduate from high school.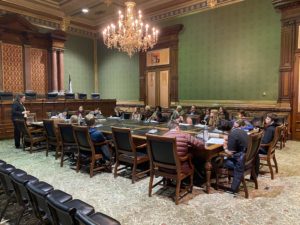 Representative Gaines leading the 2020 Jordan Scholars on a tour of the Iowa Capital, pictured in the Supreme Court chambers.
It is clear that reading and acting in plays about life like characters like: Willie Loman, Helen Keller, Walter Younger and Ann Frank taught the students that in many ways they were like them.  By using their problem-solving skills, they were able to solve their own life problems by solving the problems of the characters in the plays.  Life mirrors Art – Art mirrors life.  My students learned that both coincide  and they appreciate the beauty of that coalition.
I loved that 40 years and evidently my students loved it too because they worked for the honor I am about to receive.  Thank you, East High School, for so any years of meaningful existence.
Representative Ruth Ann Gaines has also been the recipient of numerous educator awards, including Iowa Teacher of the Year 1998, a national finalist for Teacher of the Year, and has been inducted into the National Educators Hall of Fame.
Copy Link
Link was copied