Calling for action after last week's tragedy
Earlier this week I was honored to be invited to speak at a Press Conference that was organized by one of my former East High Students, Rev. Dr. Frantz Whitfield in response to the shooting at East High School in Des Moines, where I taught for 40 years.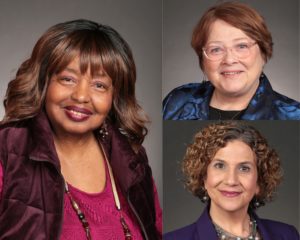 At the press conference, I took the responsibility, along with Senator Clair Celsi and Representative Marti Anderson, to demand stricter gun control laws in this state. 
I am extremely sympathetic for the family of Jose López-Perez, who lost his life in a drive by shooting last week at East.  Jose was laid to rest on March 15.   I also pray for the speedy recoveries of Kimery Ortega and Jessica Lopez, the two remaining victims who are still struggling for survival in local hospitals.  
"Does she have no EMPATHY…"
One of the facts that strongly troubled me was that our Governor had not made any comments on the school shooting that occurred just a few blocks from her office.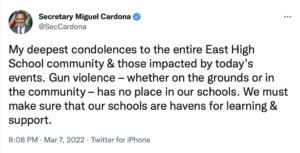 The President of the United States made appropriate remarks, as did the Secretary of Education.
Nine days after the incident the Governor decided to break her silence.  She commented "the real tragedy is that those involved were not in school that day. The tragedy is or educational system is letting these kids down.  We should be figuring out resources to help them say there and to help them get an education and get a life where they can take care of themselves and their family".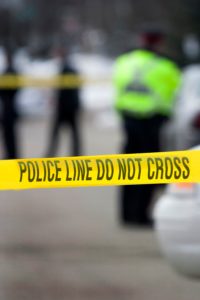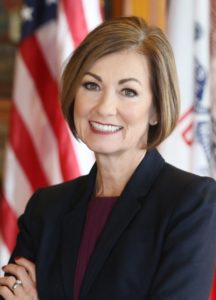 Does she have no EMPATHY for the three families, whose children were directly affected by this?  Does she not RECALL that Republicans fail to sufficiently fund K-12 education in Iowa?  Does she not RECOGNIZE that Latinos are the largest minority group in her state and they are in dire need of more resources?
I propose this definition of what I think is a "tragedy".  It is a real TRAGEDY that our Governor, in her comments, did not console the families of the victims, did not address the needs of the Latino community and failed to give any sense of hope so the young people who look up to her for guidance and support.
A real leader's response
Thank you to Representative Jennifer Konfrst, our House Democratic Leader, for releasing this statement in response to the Governor's shortsighted comments and showing Iowans what real leadership looks like.
"After 30 years in office, Kim Reynolds has lost her way. 
Even in the face of a tragic school shooting, Governor Reynolds refuses to stop playing politics. Her recent comments placing
blame on public schools for the high school shooting last week are reprehensible.
Iowans know the real tragedy is that a 15 year-old has died and two remain in the hospital. We pray and mourn with the families affected and the community at East High.
Instead of using our Iowa values to bring us together, Reynolds is using this tragedy to vilify teachers and drive Iowans apart. 
The parents, students, teachers, and staff at East High School deserve better."
Photos from CanvaPro®
Headshots are photos available to the public for each legislator and the governor.
Copy Link
Link was copied