Day of celebration clouded with uncertainty
"Being able to go to school, laugh with my friends, learn and participate in sports with them has made me feel somewhat normal," said Gavy Smith
Today is the International Transgender Visibility Day, and members of the LGBTQ+ community and allies are celebrating the contributions to society that trans and non-binary individuals offer across the world.
In Iowa, the celebration is left under a cloud of uncertainty as the state's transgender community continues to reel after the passage and signing of a law that bans transgender kids from playing on sports teams that align with their gender identity.
House File 2416, introduced by Iowa Republican State Representatives Henry Stone (HD07) and Skylar Wheeler (HD04), bans transgender students from playing on gendered sports teams that don't match their original birth certificate. Championed by Governor Kim Reynolds, this bill was hotly debated in the Iowa House and Senate before it was signed earlier this month by Reynolds on March 3.
High school athlete and trans-student speaks out
"I feel like this new law tells trans people in Iowa that they are different and don't belong here and aren't wanted. I have spent my entire life feeling like I don't quite fit in anything."
Gavy Smith is a freshmen student in Decorah Iowa, and she has been involved in a variety of sports teams at her school, including volleyball, track and field, bowling, and this spring she joined the girl's golf team. Now, she will be blocked from playing those sports with her teammates and friends she has made through her extracurriculars.
"I'm really sad about this because I just want to compete with my friends and be part of the team," said Gavy, "Since this bill was signed, I have now had to participate on the girls golf team as a manager. I practice and learn skills at practice every day. But when it comes to golf meets I will not get to play."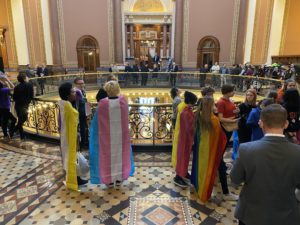 Gavy and her family testified before the legislative subcommittees in the weeks leading up to debate in both chambers. Their goal; to convince Iowa Republicans to see trans-students as the children they are.
Unfortunately for Gavy and other trans-students, the Iowa House and Senate debated and voted on the trans-athlete ban in Iowa's public education system and the bill was signed less than a week later by Governor Reynolds, and took effect immediately.
"I feel sad that I can't participate fully like my fellow golf team mates. It makes me feel like I don't really belong," Gavy explained.
Allies and supporters push back against trans-athlete ban
Organizations and allies across the state and country voiced opposition to the transgender athlete ban.
National groups like the Human Rights Campaign, one of the nation's largest LGBTQ+ advocacy groups, released a statement from their Senior Vice President, Policy & Political Affairs, JoDee Winterhof, saying in part; "This is a shameful moment in Iowa's history. With the stroke of her pen, and without even bothering to meet with transgender kids or their parents, Governor Reynolds has reversed years of progress and moved our state backwards. After years of moving closer towards equality of opportunity, Iowa is now the first in the country to make life harder for LGBTQ+ people who work, live, and go to school here."
Groups in Iowa also released statements in opposition.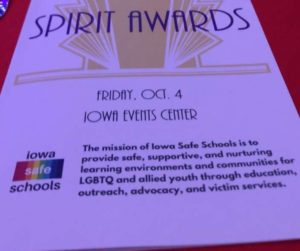 Iowa Safe Schools, one of the largest LGBTQ+ advocacy groups in the state, released a statement from their executive director Becky Smith, saying in part; "This is state-sanctioned bullying, and we are greatly disappointed in the adults in the state capital that openly voted to discriminate against children. Transgender students want to play sports for the same reason that other students want to play – to build leadership skills, socialize with their peers, and engage in an enriching activity. These votes will be remembered as an embarrassing attempt to score cheap political points, at the expense of innocent children. Iowans deserve better, and transgender children deserve better."
Progress Iowa's executive director released a statement condemning Reynolds, saying in part; "We know that transgender youth are already at a higher risk for depression, anxiety and thoughts of suicide. Banning them from playing sports with their friends will only make things worse. Iowa's Republican lawmakers should focus on passing legislation that invests in our schools and addresses Reynolds' workforce crisis, instead of picking on children who just want to play sports with their friends. Trans children are children. They deserve to play with their friends and participate in activities like any other child." 
Iowa women's athletics star opposes discrimination against trans-girls
Athletes and allies across the state of Iowa also raised their voice in opposition. Ashlyn Keeney is a senior at Iowa City Liberty High School, and has won multiple state titles in track and field. She was also named Iowa's Gatorade Athlete of the Year twice, first for the 2018-2019 season, then again during the 2020-2021 season.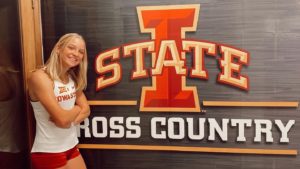 She submitted a guest article to state's largest newspaper, Des Moines Register, voicing support for transgender atheletes. In part, she said, "Fair means fair to all. You can care about both cisgender women and transgender women: They are all real women and deserve to be treated as such. In fact, caring about making sports as fair as possible for cisgender people should mean caring about making them fair for transgender people, too. Gender identity shouldn't play a role in the opportunities we are allowed. Everyone deserves equality, respect, and support, values that lie within the heart of Iowa girls sports." (Des Moines Register, February 20, 2022)
Again, lobbying efforts to stop the trans-athlete ban were unsuccessful. "I think many of us were extremely disheartened and disappointed in our lawmakers and our state after this law was passed," said Keeney. "Each time I run at practice or spend time with my team I think of [the trans girls] this law is preventing from doing these things. I feel sad and frustrated, trans athletes shouldn't be excluded from experiencing everything high school sports have to offer."
Advocates and allies aren't giving up hope
Despite this setback against the trans community in Iowa and recent efforts by Republicans across the nation to strike against LGBTQ+ rights in the United States, allies and members of the queer community are still rallying together in hopes of change.
"I am really appreciative of the organizations, students, and community members speaking out… It is encouraging to see people supporting transgender people and athletes. I hope that these efforts will produce a change in the minds of lawmakers and members of our community, and hopefully cause them to rethink this law," explained Keeney.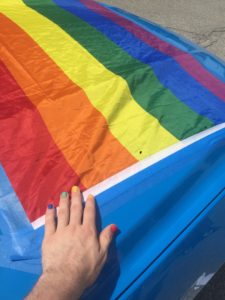 And Gavy has been receiving messages from across the country in support of her and other transgender student athletes, encouraging her to continue to use her voice for change.
"I have been receiving letters and postcards of support from different representatives in Iowa that tell me they are support me 100% and that they will keep fighting for me and other transgender kids," said Gavy, "I have also heard from a lot of my teachers at school who tell me that they are proud of me and support me and to keep using my voice."
And while these encouraging words have helped, they don't erase the pain of being banned from participating in sports with her friends.
"I appreciate my school doing all that it can to help me feel involved, but it is really disappointing. Everyone else's parents will get to come and watch them on meet days, my parents will not get to watch me and see what I've learned," Gavy explains.
Iowa once was a leader in civil rights in the country, but the last few years under Republican leadership has made us lose our way. Hopefully once again soon, Iowa will be the national standard in civil and human rights, and not the bad example others encourage their legislators to steer clear of.
Potluck Media is a project of Progress Iowa, a multi-issue progressive advocacy group that serves across the state of Iowa.
Photos courtesy of James Simmons.
Photos of Ashlyn Keeney pulled from her public twitter profile: @ashlynkeeney
Copy Link
Link was copied